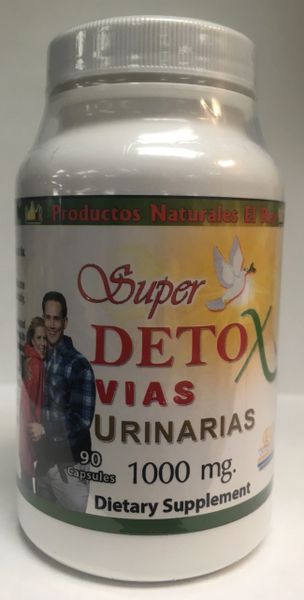 Detox Vías Urinarias de 1000 mg, contiene propiedades naturales que ayuda a limpiar las vías urinarias tanto en hombres como en mujeres.  Contiene plantas medicinales como diente de leon, golden seal, silybum marianum y raíz de muelle amarillo, que ayudan a aliviar la retención de líquidos gracias a sus propiedades diuréticas.   Asimismo ayuda a depurar el hígado y los riñones y eliminar toxinas.
Detox Vías Urinarias ayuda a prevenir cálculos renales y curar infecciones en los riñones, la vejiga y las vías urinarias.
Detox Urinary Tract 1000 mg, contains natural properties that helps clean the urinary tract in both men and women. Contains medicinal plants such as dandelion, golden seal, silybum marianum and yellow dock root, which help to alleviate fluid retention thanks to its diuretic properties. It also helps to cleanse the liver and kidneys and eliminate toxins.
Detox Vías Urinarias helps prevent kidney stones and heal infections in the kidneys, bladder and urinary tract.