Vitality Package (3) Power-Vite for Him, Maca, L-Arginine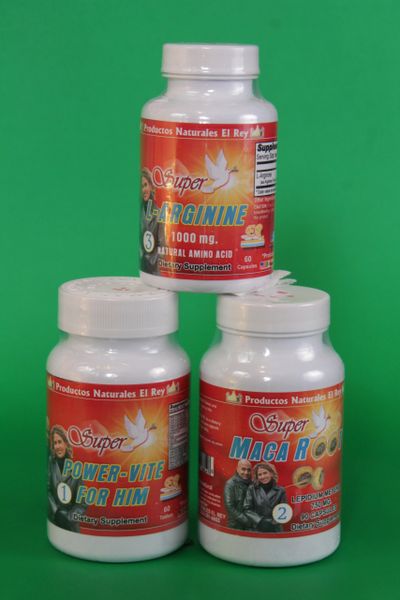 TE PRESENTAMOS NUESTRO NUEVO PAQUETE DE 3 PRODUCTOS que tomados en combinación, te ayudarán a dar vitalidad y fuerza a tu organismo.
Compra el Power Vite-for Him + Maca Root y lleva GRATIS un frasco de L-Arginine.

1. El POWER - VITE FOR HIM es un excelente potenciador sexual; tiene un ligero efecto en el centro de estimulación sexual que puede marcar una gran diferencia en tu vida.

2. La MACA ROOT es una raíz de un vegetal cultivado en Perú y conocido como ginseng peruano, tradicionalmente se ha usado como remedio para aumentar energía, estimula la virilidad en mujeres y hombres y actúa como revitalizante y reconstituyente.
3. LA L-ARGININE es un nutriente clave para la promoción eficiente del flujo sanguíneo y la función cardiovascular en general.  Ayudando a relajar los vasos sanguíneos y a mantener una presión arterial óptima.
WE ARE VERY PROUD to introduce our 3 products package that will help you to give you energy and vitality to your system.
Buy the Power Vite - for Him + Maca and get FREE the L-Arginine.

1. El POWER - VITE FOR HIM is an excellent sexual enhancer; It has a slight effect on the center of sexual stimulation that can make a big difference in your life.
2. La MACA ROOT  is a root of a plant grown in Peru and know as peruvian ginseng, traditionally it has been used as a remedy to increase energy, stimulate the virility in men and women and acts as revitalizing and restorative.
3. LA L-ARGININE is a key nutrient for the efficient promotion of blood flow and cardiovascular function in general. Helping to relax blood vessels and maintain optimal blood pressure.