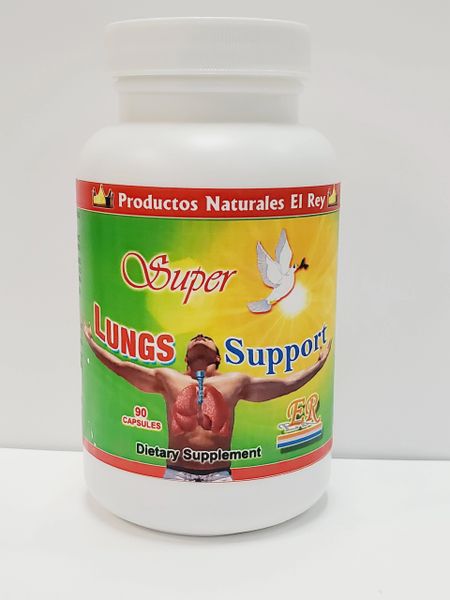 Super Lungs Support es una mezcla perfectamente equilibrada de extractos de hierbas, que contiene vitamina C, propóleos de abeja, raíz de goldelseal, equinácea, ajo, lobelia y más. Está formulado para ayudar a su sistema respiratorio, para la bronquitis y la neumonía. Contiene componentes ricos en antioxidantes y tiene propiedades antiinflamatorias, que ayudan a la salud de los pulmones, previenen alergias e infecciones respiratorias, ayudan a promover un sistema inmunológico saludable y pueden ayudar a equilibrar los niveles de histamina.
Support Lungs Support ayuda a los pulmones a diluir la mucosidad, rompe la congestión, estimula las glándulas suprarrenales para liberar epinefrina; la cual ayuda a relajar las vías respiratorias y permite una respiración más fácil. Además, ayuda a tener una respiración cómoda durante todas las estaciones del año y también ayuda a una circulación sanguínea saludable y más…

Super Lungs Support is a perfectly balanced mix of herbal extracts, that contains vitamin C, bee propolis, goldenseal root, echinacea, garlic, lobelia and more.  It is formulated to help your respiratory system, for the bronquitis and pneumonia.  It contains components rich in antioxidants and have anti-inflammatory properties, which help the health of the lungs, prevent allergies and respiratory infections, helps to promote a healthy immune system and could help balance histamine levels.
Support Lungs Support help to thins mucus, breaks up congestion, stimulates the adrenal glands to release epinephrine; helping relaxes the airways and allows for easier breathing. Also, it helps to have a comfortable breathing during all seasons and it also help healthy blood circulation and more…