Sangre de Grado (PRE BLACK FRIDAY SALE, GOOD THROUGH 11/15/22)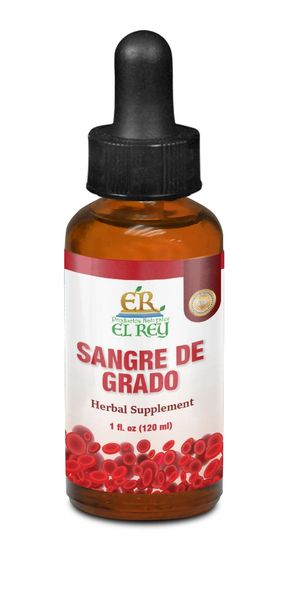 La Sangre de Grado
proviene de la corteza  de un árbol conocido como Croton Lechleri, que es originario de América del sur especialmente de las zonas amazónicas.
La Sangre de Grado es un cicatrizante natural con propiedades para curar pequeñas heridas y cortes y que también sirve para úlceras e infecciones internas cuando se toma.
Ayuda para las siguientes molestias y afecciones:
Cicatrizar lesiones en la piel y en los tejidos dérmicos.

Recuperar más rápido desgarros y arañazos.




Como analgésico.




Antiinflamatorio.




Desinfectante, antibacteriano para lavados vaginales.




Para tratar el acné.




Mejorar el estado de eczemas.




Indicado para personas con psoriasis.




Aftas bucales.




Inflamación de encías y mucosa de la boca, gingivitis.




Gastroenteritis.

Ulcera gastroduodenal.
''Estas declaraciones no han sido evaluadas por la Administración de Alimentos y Medicamentos. Este producto no esta destinado a diagnosticar, tratar, curar o prevenir ninguna enfermedad.''
Dragons Blood comes from the bark of a tree known as Croton Lechleri, which is native to South America, especially the Amazon areas.
Dragons Blood is characterized by being astringent, healing, anticancer, antidiarrheal. antiseptic, analgesic and antiulcer.

Helps for the following ailments and conditions:
Heal lesions on the skin and dermal tissues.

Recover tears and scratches faster.



As a pain reliever.
Anti-inflammatory.
Disinfectant, antibacterial for vaginal washes.
To treat acne.
Improve the state of eczema.
Indicated for people with psoriasis.
Cold sores.
Inflammation of the gums and mucosa of the mouth, gingivitis.
Stomach flu.
Gastroduodenal ulcer.
'' These statements have not been evaluated by the Food and Drug Administration. This product is not intended to diagnose, treat, cure or prevent any disease. ''