Reyna Plus Wild Yam Extract (Hormone Support) 1 Fl Oz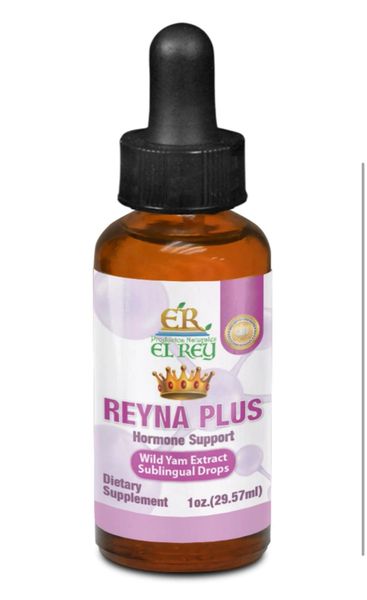 Reyna Plus contiene extracto de wild yam, el cual es una fuente natural de progesterona (la hormona de la mujer) que ayuda en los cambios hormonales tales como: síndrome premenstrual y los síntomas de la menopausia como sofocos, sudores, cambios de humor y otras molestias.
El extracto de "wild yam" también se ha usado como apoyo en el tratamiento de osteoporosis, artritis reumatoide, infertilidad, y para aumentar la energía y el deseo sexual en mujeres.
''Estas declaraciones no han sido evaluadas por la Administración de Alimentos y Medicamentos. Este producto no esta destinado a diagnosticar, tratar, curar o prevenir ninguna enfermedad".
Reyna Plus contains wild yam extract, which is a natural source of progesterone (the female hormone) that helps with hormonal changes such as: premenstrual syndrome and menopausal symptoms such as hot flashes, sweats, mood swings and others. inconvenience
Wild yam extract has also been used as a support in the treatment of osteoporosis, rheumatoid arthritis, infertility, and to increase energy and sexual desire in women.
'' These statements have not been evaluated by the Food and Drug Administration. This product is not intended to diagnose, treat, cure, or prevent any disease".