Probiotic Complex (Intestinal Flora Support)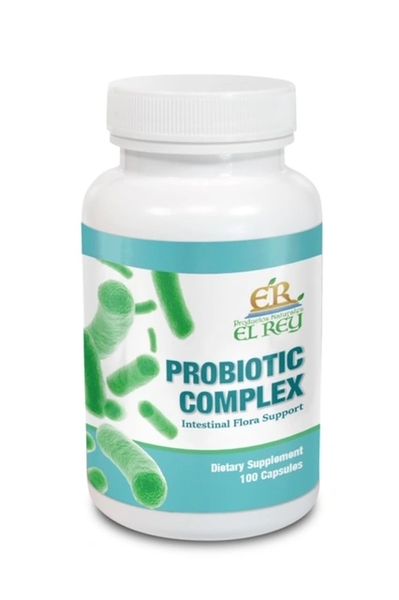 Probiotic Complex  (Intestinal Flora Support)   With Lactobacillus for a good intestinal  health.  The Lactobacillus are a type of bacteria. There are many different species of lactobacillus bacteria. These are "friendly bacteria" that normally live in our digestive, urinary, and genital systems without causing disease. Lactobacillus are also found in foods like yogurt and in dietary supplements.
Lactobacillus are very commonly used to treat diarrhea, including infectious diarrhea and diarrhea in people taking antibiotics (antibiotic diarrhea). Certain people have also used lactobacilli to treat common digestive problems, a long-term disorder of the large intestine that causes stomach pain (irritable bowel syndrome; IBS), excessive crying in babies (colic), prolonged swelling (inflammation) in the airways digestive (inflammatory bowel disease; IBD), inflammation of the colon, and many other conditions.
It can help you:

Stomach ache
Allergic rhinitis
Diarrhea caused by taking antibiotics (antibiotic diarrhea
Eczema (atopic dermatitis)
Constipation
Propensity to allergies and allergic reactions (atopic disease)
Overgrowth of bacteria in the vagina
Diarrhea caused by medicines to treat cancer.
Excessive crying in children (colic) 
'' These statements have not been evaluated by the Food and Drug Administration. This product is not intended to diagnose, treat, cure, or prevent any disease.

Probiotic Complex  (Apoyo de La Flora Intestinal) Con lactobacilos para una buena salud estomacal. Los lactobacilos son un tipo de bacteria. Hay muchas especies diferentes de bacterias de lactobacilos. Estos son "bacterias amistosas" que viven normalmente en nuestros sistemas digestivo, urinario y genital sin causar enfermedades. Los lactobacilos también se encuentran en alimentos como el yogur y en suplementos dietéticos.

Los lactobacilos son muy comúnmente usados para tratar la diarrea, incluida la diarrea infecciosa y la diarera en personas que toman antibióticos (diarrea por antibióticos). Ciertas personas también usaron los lactobacilos para tratar los problemas digestivos comunes, un trastorno prolongado del intestino grueso que causa dolor de estómago (síndrome de colon irritable; SCI), llanto excesivo en los bebés (cólicos), hinchazón prolongada (inflamación) en las vías digestivas (enfermedad inflamatoria intestinal, inflamación del colon y muchas otras condiciones 
Puede servir de ayuda para: 
Dolor de estómago 
Rinitis alérgica 
Diarrea producida por la ingesta de antibióticos (diarrea por antibióticos 
Eccema (dermatitis atópica) 
Estreñimiento 
Propensión a las alergias y reacciones alérgicas (enfermedad atópica) 
Sobrecrecimiento de bacterias en la vagina 
Diarrea causada por medicamentos para tratar el cáncer. 
Llanto excesivo en los niños (cólicos)
                                                                                                                                                                                                                ''Estas declaraciones no han sido evaluadas por la administración de alimentos y medicamentos. Este producto no esta destinado a diagnosticar, tratar, curar o prevenir ninguna enfermedad.