VITAMIN C 1000mg WITH BOFLAVONOIDS AND CAMU CAMU FROM PERU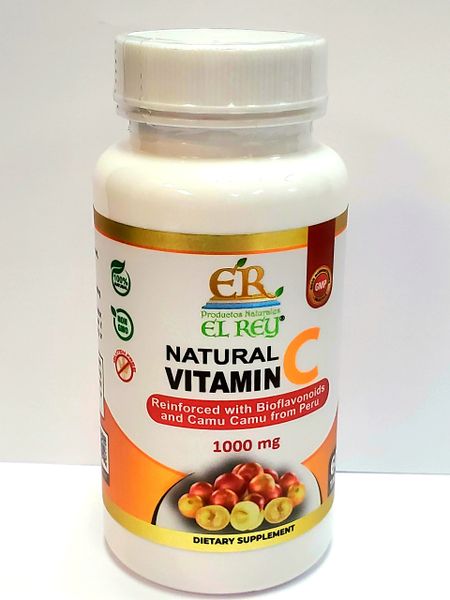 La vitamina C y los bioflavonoides son importantes antioxidantes que ayudan a mantener saludables los ojos y el cuerpo.
Hay investigaciones que sugieren que la vitamina C y los bioflavonoides tienen un efecto complementario, lo que hace que ambos nutrientes sean más efectivos si se ingieren juntos en lugar de por separado.
CAMU CAMU
El arbusto camu-camu, originario de la Amazonía peruana, produce un fruto del mismo nombre muy rico en fitoquímicos y con grandes propiedades para la salud.
El camu-camu contiene una gran cantidad de bioflavonoides y de aminoácidos esenciales como la serina, la valina y la leucina. Es como decíamos una riquísima fuente de vitamina C, hasta 60 veces mayor que las naranjas.
En resumen, el conjunto de la vitamina C con bioflavonoides y camu camu aportan grandes benéficos a nuestra salud entre los cuales encontraremos:
1. AYUDA A FORTALECER LAS DEFENSAS
2. MEJORA LA SALUD OCULAR
3. MEJORA EL ESTADO DE ANIMO
4. REDUCE EL RIESGO DE ENFERMEDADES CARDICAS
5. AYUDA EN AREDUCIR LOS EFECTOS DE LA EDAD
6. APOYO EN LA DISMINUCCION DEL COLESTEROL EN LA SANGRE
7. AYUDA EN LA MEJORA DE LA CIRCULACION
8. MEJORA DE LA FUNCION HEPATICAS
Y MAS …
VITAMIN C 1000mg WITH BIOFLAVONOIDS AND CAMU CAMU FROM PERU
Vitamin C and bioflavonoids are important antioxidants that help keep your eyes and body healthy.
Research suggests that vitamin C and bioflavonoids have a complementary effect, making both nutrients more effective when taken together rather than separately.
The camu-camu bush, native to the Peruvian Amazon, produces a fruit of the same name that is very rich in phytochemicals and has exelent health properties.
Camu-camu contains a large quantity of bioflavonoids and essential amino acids such as serine, valine and leucine. It is, as we said, a rich source of vitamin C, up to 60 times higher than oranges.
In summary, the set of vitamin C with bioflavonoids and camu camu provide great benefits to our health, among which we will find:
1. HELPS STRENGTHEN DEFENSES
2. IMPROVES EYE HEALTH
3. IMPROVES MOOD
4. REDUCES THE RISK OF HEART DISEASE
5. HELPS REDUCE THE EFFECTS OF AGE
6. SUPPORT IN THE REDUCTION OF CHOLESTEROL IN THE BLOOD
7. HELP IN THE IMPROVEMENT OF CIRCULATION
8. IMPROVEMENT OF LIVER FUNCTION
AND MORE …