Bazooka Natural Male Enhancer (5 caps)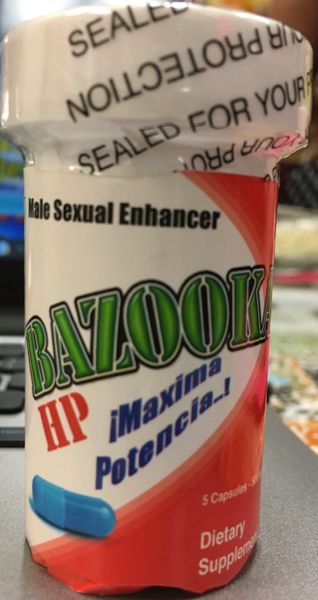 Bazooka es una potenciador sexual masculino que contiene una variedad de extractos de plantas, tales como ginseng siberiano, epimedium sagitatum, vitamina B1, B6 y B12 los cuales tienen la capacidad de aumentar la libido y mejorar la función eréctil.  Ayuda a aumentar el flujo de sangre y mejorar la función sexual.  Asimismo, este producto ayuda a elevar los niveles de energía, proporciona sensación de bienestar y sirve de apoyo cognitivo.
Bazooka is a male sexual enhancer that contains a variety of plant extracts, like Siberian ginseng, epimedium sagitatum, Vitamin B1, B6 and B12 which have the ability to increase libido and improve erectile function. Helps to increase blood flow and improve sexual function. Also, this product helps to raise energy levels, provides a feeling of well-being and serves as cognitive support.